Congress Zagreb
ZAGREB THE CAPITAL OF CROATIA
Zagreb, the capital of the Republic of Croatia, is the country's political, economic, commercial, cultural, sports and diplomatic centre. With more than one thousand years of history, this is a city whose architecture, museums, libraries and theatres manifest history and a tradition of its own and of this part of Europe.
The city centre is commercial in character, with numerous company representation offices, banks and shops, but also a range of administrative, political, cultural, scientific, educational and other institutions.
Zagreb is also a Central European city with a quite specific atmosphere and spirit. Its oldest parts, Gradec and Kaptol, are ranked among the most beautiful and best preserved old nuclei in Europe. Old buildings, intimate squares, numerous monuments from years gone by, museums and galleries, all bear witness to a longstanding tradition and the deep roots of civilisation in these parts.



CONGRESS CENTRES ZAGREB
Congress and Concert Hall "Vatroslav Lisinski"

| Name: | Theatre: | Classroom: | Banquet: |
| --- | --- | --- | --- |
| Great Hall | 1.847 | - | - |
| Small Hall | 304 | - | - |
| Great Hall Lounge | - | 100 | 120 |
| Great Hall Cloak-Room Area | - | - | - |

---
CONGRESS CENTRE & PCO-ZAGREB FAIR

| Name: | Theatre: | Classroom: | Banquet: |
| --- | --- | --- | --- |
| CONGRESS CENTER I | | | |
| Brijuni | 200 | 100 | 100 |
| Vis | 50 | 30 | 30 |
| Korcula | 50 | 30 | 30 |
| Hvar | 30 | 15 | 30 |
| Hvar + Vis + Korcula | 130 | 75 | 75 |
| Exhibitors Club | 100 | 50 | 60 |
| CONGRESS CENTER II | | | |
| Congress Hall A+B | 1200 | 600 | - |
| Congress Hall A | 500 | 250 | - |
| Kumrovec | 150 | 80 | - |
| Winter Garden | - | - | 200 |
| Businessmen Club | 250 | 130 | 130 |
| Pavillion No 5 | 2000 | - | 1000 |
| Pavillion No 7 | 1000 | - | 500 |
| Pavillion No 10 | 1000 | - | 500 |
| Pavillion No 10A | 2000 | - | 1000 |
| Pavillion No 11A | 1000 | - | 500 |
| Pavillion No 11D | 800 | - | 400 |
| Pavillion No 11A+11C | 300 | - | 150 |
| Pavillion No 15 | 1200 | - | 600 |

---
HOTEL DUBROVNIK ****
The hotel is situated right on the main city square and has its own parking lot. In addition to its own catering and shopping facilities its location ensures that all cultural, shopping, catering and other facilities of the city are close by.
Year built: 1929, Year of reconstruction: 1980, Total rooms: 268, Singles: 168, Doubles: 92, Suites: 8
Capacities

| Name: | Theatre: | Classroom: | Banquet: |
| --- | --- | --- | --- |
| Centrum | 200 | 120 | 200 |
| Centrum+Stradun I | - | - | 230 |
| Centrum+Stradun I+II | - | - | 260 |
| Stradun I | 40 | 20 | 30 |
| Stradun I+II | 60 | 40 | 60 |
| Kaleta I | 12 | 8 | 15 |
| Kaleta I+II | 24 | 16 | 30 |
| Kaleta I+II+II | 48 | 24 | 45 |
| Libertas I | 12 | 8 | 15 |
| Libertas I+II | 24 | 16 | 30 |
| Libertas I+II+III | 48 | 24 | 45 |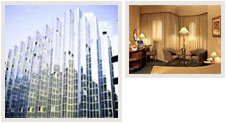 ---
HOTEL OPERA *****
The hotel. Which has its own garage, is located in the city centre, a 10-minute walk from the main square, in the immediate vicinity of both the Croatian National Theatre and the Mimara Museum. It has a swimming pool, various recreational facilities and wide ranging catering facilities.
Year built: 1975, Year of reconstruction: 2000, Total rooms: 405, Singles: 182, Doubles: 185, Suites: 38
Capacities

| Name: | Theatre: | Classroom: | Banquet: |
| --- | --- | --- | --- |
| Crystall Ballrom | 800 | 400 | 560 |
| 2/3 Crystall Ballrom | 450 | 300 | 400 |
| 1/3 Crystall Ballrom | 250 | 150 | 150 |
| Maksimir | 80 | 40 | 60 |
| Tuskanac | 30 | 30 | 30 |
| Zrinjevac | 30 | 25 | 20 |
| Zrinjevac/Tuskanac | 80 | 60 | 40 |
| Jelenovac | 25 | 20 | 20 |
| Zelengaj | 15 | 15 | 8 |



---
HOTEL PANORAMA ****
The hotel is located close to the town centre and is adjacent to sports grounds, shops and other facilities. In its immediate vicinity is the Sports Hall, where numerous sports and cultural manifestations take place. The hotel offers a number of catering and recreational facilities.
Year of reconstruction: 2001, Toatl rooms: 286, Singles: 48, Doubles: 181, Suites: 57
Capacities

| Name: | Theatre: | Classroom: | Banquet: |
| --- | --- | --- | --- |
| Ballroom A | 250 | 100 | 200 |
| Ballroom B | 100 | 50 | 100 |
| Ballroom A/B | 400 | 150 | 300 |
| Zagreb | 200 | 80 | 100 |
| Gric | 100 | 40 | 60 |
| Zagreb/Gric | 300 | 120 | 140 |
| Carmmelia | 50 | 40 | 40 |
| Fortuna | 60 | 50 | 50 |



---
HOTEL SHERATON *****
The hotel is located in the centre of town, a 10-minute walk from the city's main square and the main cultural and shopping centre and other venues. The hotel provides a wealth of catering and shopping facilities, has a business centre, a health and fitness club and its own garage.
Year built: 1996, Total rooms: 312, Doubles: 282, Suites: 30
Capacities

| Name: | Theatre: | Classroom: | Banquet: |
| --- | --- | --- | --- |
| Grand Ballroom | 700 | 330 | 450 |
| Section A | 150 | 80 | 100 |
| Section B | 300 | 120 | 150 |
| Section C | 100 | 60 | 60 |
| Split | 12 | 9 | 8 |
| Dubrovnik | 25 | 8 | 20 |
| Opatija | 25 | 8 | 20 |
| Pula | 35 | 24 | 22 |
| Zagreb | - | - | 22 |
| Berlin | 12 | 9 | 10 |
| Paris | 15 | 12 | 10 |
| Milano | 20 | 15 | 12 |
| Madrid | 25 | 18 | 16 |
| London | 30 | 21 | 20 |



REZERVACIJA