Congress Pula
PULA
Pula, the largest city in Istria, grew on a site of a former Illyrian settlement. The exiting permeation of the past and the present found in the streets of Pula is demonstrated by numerous monuments, among them the Gates of Hercules built in the 1st century BC, the Triumphal Arch of the Sergii dating from 28 BC, the City Hall built at the end of 13th century on the ruins of a temple dating from the times of Antiquity, Diana's Temple, and many others.
Pula today is an cultural, economic and communication centre, which attracts visitors and tourists with its wide range of facilities, services and opportunities tailored to suit their demands and tastes.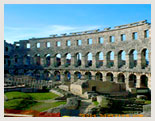 CONGRESS CENTRES PULA
HOTEL HISTRIA***

Year of reconstruction: 2002, Total rooms: 240, Singles: 31, Doubles: 201, Suites: 8

The hotel is located in a tourist estate, 5 km from the centre of Pula and offers a wide range of catering and other facilities. It has its own swimming pool and ample opportunities for sports and recreation.
Capacities:

| Name: | Theatre: | Classroom: | Banquet: |
| --- | --- | --- | --- |
| Congress hall | 600 | 250 | 250 |
| Hall A | 30 | 30 | 30 |
| Hall B | 100 | 50 | 50 |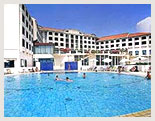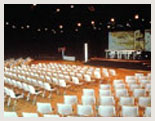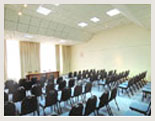 REZERVACIJA